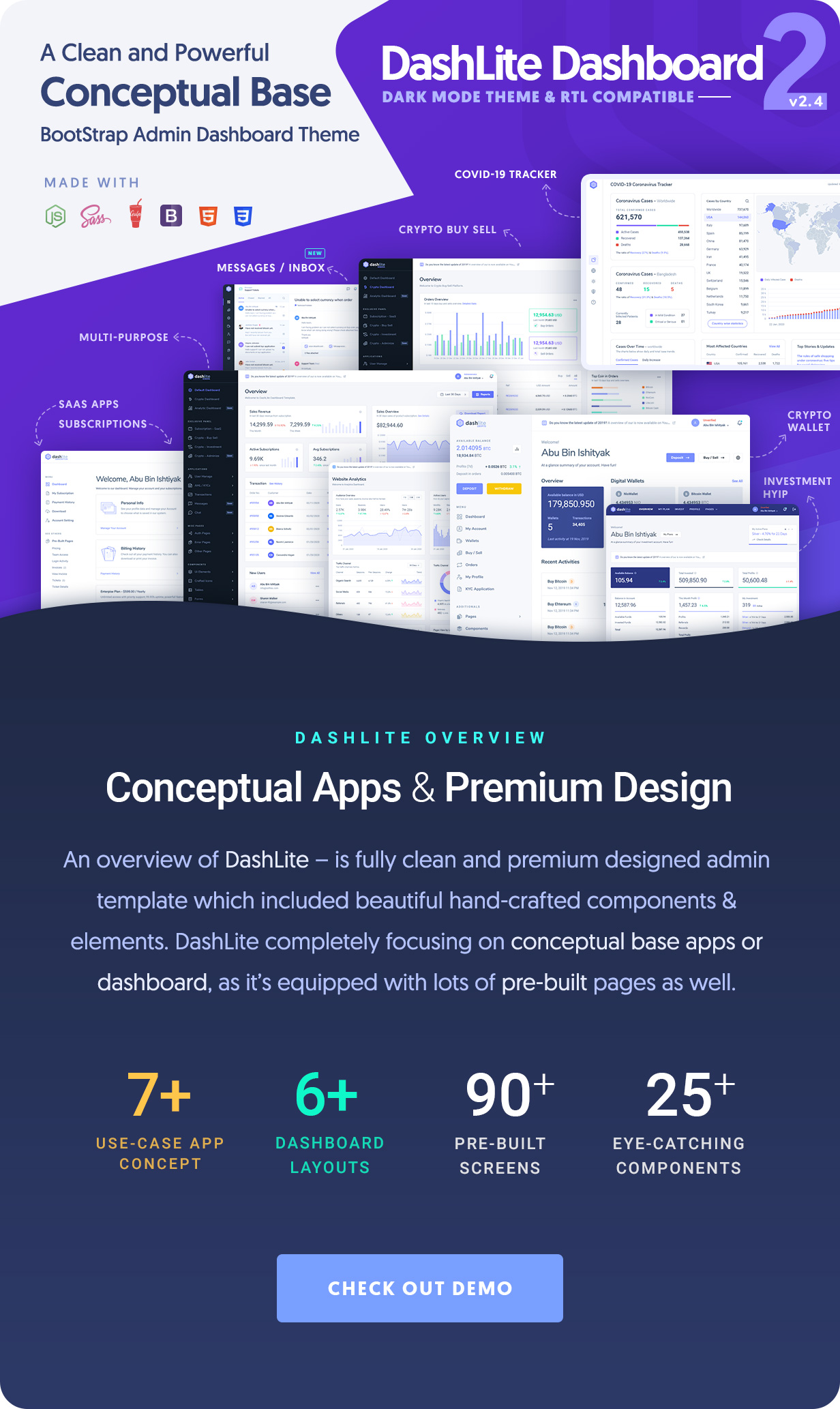 DashLite – Bootstrap Responsive Admin Dashboard Template
Softnio introducing a powerful admin dashboard template that especially build for developers and programmers. DashLite comes with all kind of components, necessary elements and pre-build pages including exclusive 3 conceptual apps (crypto buysell wallet, HYIP investment & saas subscription) that helps you to create your web apps or application faster.
An overview of DashLite – is fully clean and premium designed admin template which included beautiful hand-crafted components & elements. DashLite completely focusing on conceptual base apps or dashboard, as it's equipped with pre-built screens as well.
Create your web application amazing and more professional with this super user-friendly dashboard template. DashLite comes with all essential features that always you or your developers looking for.
DashLite – Admin Template Features
Conceptual/Functional Apps based layout.
Pre-built and Ready to use application pages.
Tons of readymade components and elements
Fully responsive Layout and well optimized.
General Dashboard for any purpose use-case.
Listing (User, Transaction, KYC) & Details pages.
Nice layout for user profile and user details (admin view) page.
Supported any modern browser including cross-browser compatibility.
Free premium support for first 6 months.
Clean, modern, great UI interface including UX.
Handmade custom icons to serve exact purpose.
Hand-crafted Font icons, sepecially designed for dashlite.
And many more features available
Subscription Dashboard – Conceptual App
Working on your subscription based SAAS application and looking for Dashboard? Subscription Dashboard provides you super clean & minimalist design with ultimate flexibility, you'll be able to build app without any hassle.
Features
Included Standalone 20+ complete screens.
Complete Design from user perspective.
Manage subscription, Payment history with invoice.
Ticket listing with follow up message.
Faq and support page with details.
Exclusive modal for edit profile and subscription option.
Nice and very clean design.
Crypto Buysell/Wallet Dashboard – Conceptual App
Use the Crypto Dashboard for your next cryptocurrency based wallet or buy-sell dashboard. It's wrap with 12+ pre-built screens that is not only developer friendly and easy to build your apps but save your time to create stunning looking user panel.
Features
Nice dashboard design with welcome screen.
Ready layout for Profile and Account management.
Manage wallet/assets with Order listing layout.
Buy / Sell or complete order procedure steps.
Fully responsive with well optimized each screen.
KYC / Identity Verification form layout.
HYIP Investment Dashboard – Conceptual App
Make your Investment (HYIP) Dashboard more professional with this awesome dashboard template. It's included 12+ pre-built screens that increadibly power your application.
Features
Nice dashboard design for investor panel.
Welcome screen / complete registration page layout.
User Profile and Account management layout.
Investment active schemes and each scheme details
KYC/AML Form / Identity Verification process.
Full investment procedure for investor.
Stylish and clean popup design
What do you get?
All HTML Template files
Gulp Package & SCSS source file
Documentation/guide file
Supports
We provide support free for first 6 months from purchase date. We try to answer all questions within 24 hours in weekdays. Support requests receive during weekends or public holidays will be processed on next business day.
Please contact us via support tab, if you need any help or adding features that helps you to complete your project.
Sources and Credits
Framework
Bootstrap 4
jQuery Plugins (Javascript)
jQuery, DropzoneJs, Select2, SimpleBar, SweetAlert2, Toastr, DataTable, Bootstrap DatePicker, Bootstrap TimePicker, Chart JS, KnobJs, Clipboard, Slick Carousel, noUiSlider, Bootstrap Datepicker
Fonts
Roboto (Google Fonts), Nunito (Google Fonts), Nioicon (Softnio)
Custom Icons & Illustration
All custom icons and illustration fully hand-made by Softnio Team.
Changes log
Version - 1.0
Initial Released